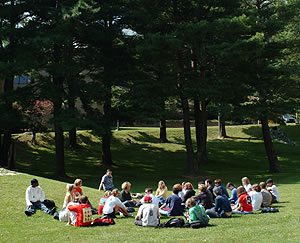 In addition to serving in the classroom, our faculty members also serve in many other ways. Most are involved in university committee work, and many serve in leadership positions in professional and academic organizations. The networks that our faculty members develop and maintain in the various fields of communication serve our students as well, helping to open doors for internships and interviews.
Faculty research also contributes to serving students, as the results enhance course lectures and discussion. Many of our faculty members are actively involved in the local community as well, and they bring that sense of engagement to students in the form of service-learning and community-based research.
Please use our faculty and staff directory to find out more about the faculty and staff here in the Department of Communication. The forms & resources page gives faculty and staff quick access to a multitude of departmental and university resources. If you are considering a position in our department, check our current positions page.