Alumni
Communication Alumni
As a department dedicated to students, it's not too surprising that we're proud of our alumni. Students from this department have gone on to successful careers all over the country, empowered by the one quality that has impressed employers over and over again: a positive, teachable, committed attitude.
We're convinced that our current students can learn a lot from our alumni, as well as from our other friends in various professional fields. We're also convinced that we as a department have a lot to learn from you. That's why we encourage our alumni and friends to come visit us, give guest lectures, teach a class or two, share advice about our curriculum or get involved with our mission in any way possible.
We also encourage you to visit the Alumni Association site and update your contact information so we can stay in touch.
Connect with Us
Follow our department Linkedin page for regular updates.
Current students and communication alum are welcome to request to join our Linkedin group
Spring Forward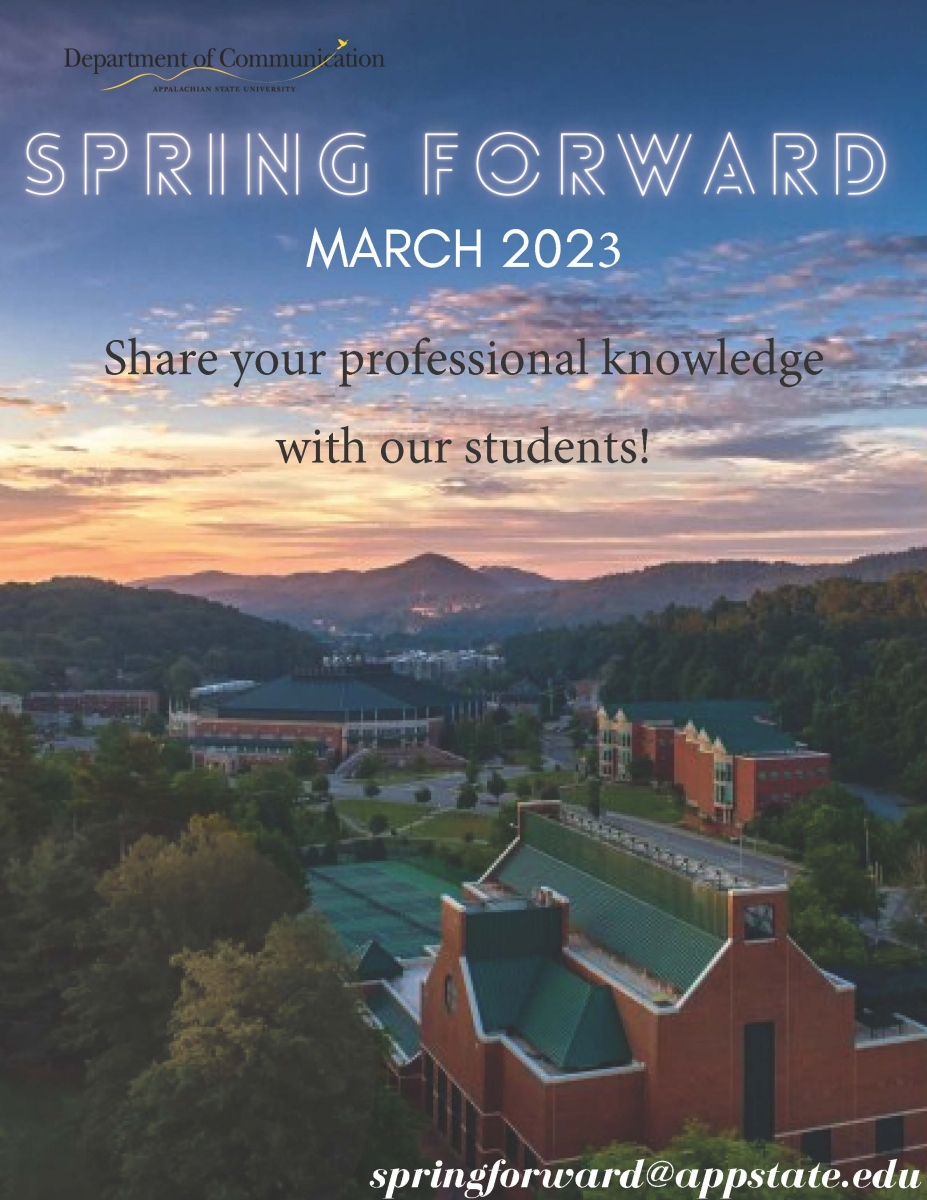 Spring Forward is the Department of Communication's annual one-day alumni and student networking event. Alumni return to campus to engage and share career knowledge with students via a series of panels. This event also gives students the opportunity to learn about different career paths and to network with alumni working in the field.
Spring Forward will be held on March 31, 2023.
If you are interested in joining in our upcoming Spring Forward event, please complete our interest form.
Questions? Contact springforward@appstate.edu.
Career Opportunities
Did you know?

Appalachian State Alumni have access to Handshake after graduating!

Create a profile, apply for jobs, or book an appointment with a Career Coach below.
| | | | | |
| --- | --- | --- | --- | --- |
| Company | Location | Job Title | Starting Salary | Application deadline |
| Aerotek | Raleigh, NC | Entry Level Recruiter/Sales Trainee | $50,000 | December 31, 2022 |
| AIM Group | Raleigh, NC | Jr. Account Executive/Consultant | $65,000 | February 1, 2023 |
| Appalachian Voices | Remote/Boone, NC | Communication Coordinator | $42,000-$60,000 | Open until filled |
| Apex Tool Group | Charlotte, NC | End User & Marketing Representative | $55,000 | December 30, 2022 |
| Chick-Fil-A | Savannah, GA | Marketing Coordinator | $52,000 | December 31, 2022 |
| Explore Asheville | Asheville, NC | Content Creator | Edu./Experience-based | Open until filled |
| First Presbyterian Church | Asheville, NC | Communications Specialist | Not Mentioned | Open until filled |
| Hospitality House of Northwest NC | Boone, NC | Facilities Specialist | Not Mentioned | Open until filled |
| Hospitality House of Northwest NC | Boone, NC | Shelter Associate | Not Mentioned | Open until filled |
| Hospitality House of Northwest NC | Boone, NC | DV Rapid Rehousing/Transitional Housing Coordinator | Not Mentioned | Open until filled |
| Joel Sartore Photography | Lincoln, NE | Photography Assistant | Not Mentioned | Open until filled |
| Jobprepped | Los Angeles, CA | Marketing Coordinator | $22/hour | November 10, 2022 |
| Nexstar Media Group, Inc. | Johnson City, TN | Reporter, MultiMedia Journalist | Edu./Experience-based | Open unitl filled |
| Phaxis | Charlotte, NC | Recruitment Consultant/Talent Acquisition | $45,000 | January 2, 2023 |
| Piper Companies | Cary, NC | Associate Account Manager | $47,500 | November 15, 2022 |
| Reminder Media | Remote/Charlotte, NC | Sales Account Executive | $85,000 | December 31, 2022 |
| The Select Group | Charlotte, NC | Associate Technical Recruiter | $50,000 | December 21, 2022 |
| Watauga Humane Society | Boone, NC | Communication Coordinator | Edu./Experience-based | Open until filled |
| Wisepath Financial Group | Remote/Winston-Salem, NC | Entry Level Financial Professional | $60,000 | January 1, 2023 |