Communication Alumni
As a department dedicated to students, it's not too surprising that we're proud of our alumni. Students from this department have gone on to successful careers all over the country, empowered by the one quality that has impressed employers over and over again: a positive, teachable, committed attitude.
We're convinced that our current students can learn a lot from our alumni, as well as from our other friends in various professional fields. We're also convinced that we as a department have a lot to learn from you. That's why we encourage our alumni and friends to come visit us, give guest lectures, teach a class or two, share advice about our curriculum or get involved with our mission in any way possible.
We also encourage you to visit the Alumni Association site and update your contact information so we can stay in touch.
Connect with Us
Follow our department Linkedin page for regular updates.
Current students and communication alum are welcome to request to join our Linkedin group
Spring Forward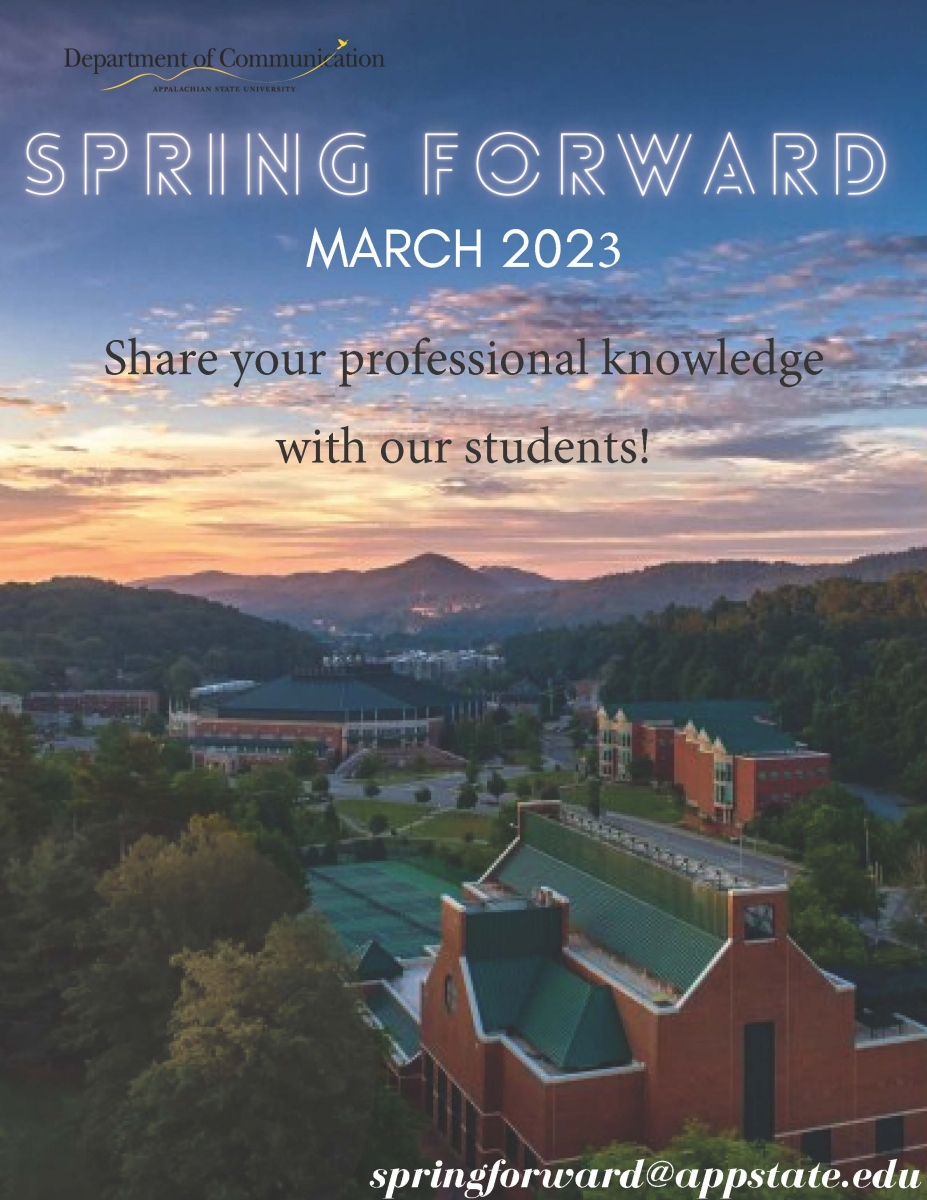 Spring Forward is the Department of Communication's annual one-day alumni and student networking event. Alumni return to campus to engage and share career knowledge with students via a series of panels. This event also gives students the opportunity to learn about different career paths and to network with alumni working in the field.
Spring Forward will be held in March 2023.
If you are interested in joining in our upcoming Spring Forward event, please complete our interest form.
Questions? Contact springforward@appstate.edu.
Career Opportunities
| | | | | |
| --- | --- | --- | --- | --- |
| Company | Location | Job Title | Starting Salary | Application deadline |
| Chick-Fil-A | Savannah, GA | Marketing Coordinator | 52,000 yr. | December 31st, 2022 |
| Red Ventures | Charlotte, NC | Paid Media Analyst | Not Mentioned | January 12th, 2023 |
| FGCU | Fort Myres, FL | Managing Editor | Edu./Experience-based | Not mentioned |
| FGCU | Fort Myres, FL | Investigative Reporter/Producer | Edu./Experience-based | Not Mentioned |
| FGCU | Fort Myres, FL | Multimedia Journalist | 30,000 yr. (negotiable) | Not Mentioned |
| FGCU | Fort Myres, FL | Midday Radio Host/Reporter | 30,000 yr. (negotiable) | Not Mentioned |
| Blue Ridge Companies | High Point, NC | Digital Marketing Manager | Not Mentioned | July 30th, 2022 |
| IZEA WordWide, Inc. | Remote | Copywriter | Not mentioned | August 31st, 2022 |