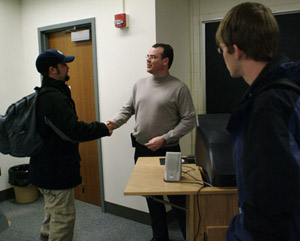 As a department dedicated to students, it's not too surprising that we're proud of our alumni. Students from this department have gone on to successful careers all over the country, empowered by the one quality that has impressed employers over and over again: a positive, teachable, committed attitude.
We're convinced that our current students can learn a lot from our alumni, as well as from our other friends in various professional fields. We're also convinced that we as a department have a lot to learn from you. That's why we encourage our alumni and friends to come visit us, give guest lectures, teach a class or two, share advice about our curriculum or get involved with our mission in any way possible.
We also encourage you to visit the Alumni Association site and update your contact information so we can stay in touch.