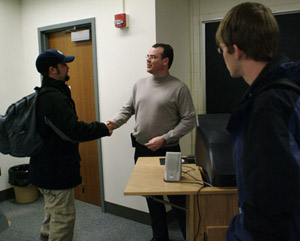 As a department dedicated to students, it's not too surprising that we're proud of our alumni. Students from this department have gone on to successful careers all over the country, empowered by the one quality that has impressed employers over and over again: a positive, teachable, committed attitude.
We're convinced that our current students can learn a lot from our alumni, as well as from our other friends in various professional fields. We're also convinced that we as a department have a lot to learn from you. That's why we encourage our alumni and friends to come visit us, give guest lectures, teach a class or two, share advice about our curriculum or get involved with our mission in any way possible.
We also encourage you to visit the Alumni Association site and update your contact information so we can stay in touch.
Giving
The Department of Communication is a technology-intense department. We have numerous equipment needs with our large number of students, and quality production equipment is expensive. In addition, we have several scholarships supporting students who plan to pursue careers in the field. We need your support to provide our students with the education and experience to be successful professionals.
To learn more about giving, or give to the department, visit Appalachian's online Giving Opportunities page and choose Communication in the Gift Designation selection box.
Advisory Board
The Mission of the Communication Executive Advisory Board is to function as an advisory group whose responsibility is to influence development and advancement activities for the Department of Communication, advise the faculty on professional trends which might affect curriculum and program planning, and bring about a close working relationship between communication professionals and the members of the Department, including faculty and students.
Goals and Objectives
Provide ideas and suggestions to increase the exposure of the Department's programs, students, and faculty to all areas of the communication industry.
Provide corporate and foundation contacts to increase private funding and gift in kind donations to the Department.
Suggest new directions for programs, i.e., how do we take our programs to a new level of distinction? What are niches we should consider to make us stand out?
Provide liaison between the Department and the profession of Communication in all its aspects, by serving as guest lecturers in classes, speaking to departmental clubs and organizations, providing advice for a career day for juniors and seniors, assisting in developing internships for students, and related functions.
Members
Chair: Kathryn Blanchard, President, Crown Communication
Pam Allen, retired Director of Marketing and Public Relations, Kaweah Delta Hospital
Graham Caddell, Vice President, Caddell Broadcasting, Inc.
Will Davis, V.P. & General Manager, WWWB Television & WJZY-TV
Lynn Drury, Assoc. Vice Chancellor, Public Affairs, Appalachian State University
James K. Flynn, President and Owner, Ayort Communications
Dan Hill, General Station Manager of WASU and Co-owner of Vallie Richards Consulting
Jackie Hirschhaut, V.P. of Public Relations & Marketing, American Home Furnishings Alliance
Jonathan Hoffman, General Manager, Aisling Broadcasting, LLC
Mike Hogewood, On-Air Talent, Fox Sports
Karen Johnson, Senior Vice President, Valente & Associates
Gene Lewis, Founder & President, Lewis Advertising, Inc.
John Owensby, Newspaper Publisher, Kernersville News
Rusty Page, founder and Principal of Rusty Page & Company
Hank Price, President & General Manager, WXII TV-12
Doug Rice, President & General Manager, Performance Racing Network
Gail Rosenberg, Senior Vice President, The Catevo Group
Bill Staton, Chairman & "America's Money Coach," The Staton Institute, Inc & Staton Financial Advisors LLC
Mary Staton, CEO, The Staton Institute, Inc & Staton Financial Advisors LLC
Wayne Sumner, Owner and President, Jackson Sumner & Associates, Inc.
Reta Thorn, Retired, Clear Channel Communications
Alumni Council
The Department of Communication has an active and enthusiastic Alumni Council composed of about forty alumni representing all five areas of the Department. A faculty member from each area meets with the Council. The Council serves as a link between the Department, the Alumni, and the professions of communication represented by our five areas. Members provide guidance and advice on matters relating to programs, curriculum, internships, job placement, career fairs, fund raising, and other areas of interest to the Department and Alumni. Our alumni also serve as liaisons between the Department of Communication and the ASU Alumni Council. The Council meets twice a year, usually in Boone, but other venues are possible, such as Charleston, SC. Neill Caldwell ('82) is the current Chair of the Council. Patrick Berry ('02) is the current vice-chair.