Honors Program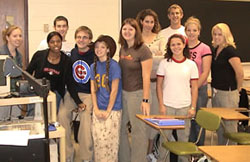 The Department of Communication was the first department in the College of Fine and Applied Arts to offer an Honors Program. Students who demonstrate exceptional academic promise are invited into the Honors program each semester by the Honors Coordinator, Dr. Jennifer Gray. The Department offers several courses each semester (indicated in the course catalog with a -410 or -411 course number designation) restricted to Honors students. These courses provide students with additional opportunities for academic enrichment and personalized mentoring.
Program Requirements
The Department of Communication offers a 9-hour honors program. Students must complete 6 hours of classroom honors work and a 3-hour thesis. Disciplinary honors courses will be drawn from designated honors courses offered at the department's introductory, intermediate, and advanced course levels. To graduate with Honors in Communication, a student must be a major, maintain an overall grade point average of 3.45, an overall Communication grade point average of 3.45, earn no less than a B in any Honors-designated courses, and successfully defend a departmental honors thesis.
Honors Sections
During the Fall 2023 semester, the Department of Communication offers the following Honors-only subsections:
COM 1200 410 • Thinking Through Communication • Dr. Chris Patti
COM 2110 410 • Introduction To Nonverbal Communication • Dr. Debra Poulos
COM 3117 410 • Environmental Communication • Dr. Janice Pope
COM 3300 410 • Media & Society • Dr. Janice Pope
COM 3300 411 • Media & Society • Dr. Janice Pope
COM 3600 410 • In-Depth Reporting And Writing • Dr. Carolyn Edy
COM 3928 410 • Communication Research Methods • Dr. Jennifer Gray
Fall 2023 Honors Thesis Students
Please join the Deaprtment of Communication in congratulating and supporting our Honors Students graduating and completing their theses this semester!