A student from Appalachian State's Department of Communication has been selected to speak at Fall Commencement on Dec. 13, 2019, in the Holmes Convocation Center.
Nora Smith, of Spartanburg, SC, is graduating from the Honors College with a B.S. in Communication, Journalism, and a minor in Graphic Arts and Imaging Technology. During their time at the university, Smith served as editor-in-chief and graphics editor of The Appalachian, the campus student-run newspaper and received the David L. Adams Apple Award for Copy Editing from the College Media Association.
In their remarks, Smith plans to share some insights into their Appalachian experience, and the professors who helped shape their professional development as a journalist and as a person.
"Nora is an excellent choice to represent the university and the Department of Communication at commencement," said Dr. Scott Welsh, Interim Chair for the Department of Communication and director of Nora's Honor's Thesis. "I was fortunate to have Nora in several of my classes and enjoyed Nora's inquisitive mind and intellectual persistence. Nora's hard work at Appalachian will resound here for years to come and wherever Nora ends-up in the future."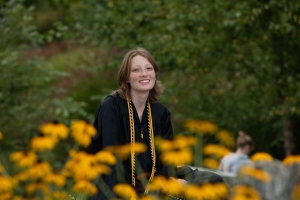 Tags: