Contact and Overview
Email Address
Office Hours
Tuesday: Noon-1:30 p.m. • 3:30-4:30 p.m.
Thursday: Noon-1:30 p.m. • 3:30-4:30 p.m.
And by appointment
Education
Ph.D., Communication Studies, University of North Carolina - Chapel Hill
M.A., Communication, Auburn University
B.A., English, University of Georgia
Teaching
Currently Teaching (Spring 2023)
COM 3300 Mass Media & Society
COM 3341 Communication Ethics
Courses Taught
COM 3130 Race & Diversity in Media
COM 3300 Mass Media & Society
COM 3317 Social Media Strategies
COM 3341 Communication Ethics
COM 3500 Technological Revolutions & the Future of War (independent study)
HON 2515 Technology, Philosophy & Power
Teaching and Research Specialities
Media & Technology Studies
Cultural Studies
Critical Theory
Ethics
Publications
Journal Articles
Davis, Andrew. "Whose Singularity? Artificial Intelligence as a Mechanism of Corporate Sovereignty." Culture Machine 20 (2021): 1-23.
Davis, Andrew. "Failure Is Always an Option: The Necessity, Promise & Peril of Radical Contextualism." Cultural Studies 33.1 (2019): 46-56.
Kim, Sei-Hill, John P. Carvalho, Andrew G. Davis, and Amanda M. Mullins. "The View at the Border: News Framing of the Definition, Causes, and Solutions to the Illegal Immigration Problem." Mass Communication and Society 14.3 (2011): 292-314.
Kim, Sei-Hill, John P. Carvalho, and Andrew G. Davis. "Talking About Poverty: News Framing of Who Is Responsible for Causing and Fixing the Problem." Journalism and Mass Communication Quarterly 87.3/4 (2010): 563-81.
Book Chapters
Davis, Andrew. "Teaching Conjuncturally: Cultural Studies as the Practice of Conjunctural Analysis." Cultural Studies in the Classroom & Beyond: Critical Pedagogies & Classroom Strategies. Eds. Jaafar Aksikas, Sean Johnson Andrews, and Donald Hedrick. Cham, Switzerland: Palgrave Macmillan, 2019. 259-278.
Davis, Andrew. "Dap-Dippin' Independent Tradition: The Rebirth of Rhythm and Blues." Please Allow Me to Introduce Myself: Essays on Debut Albums. Ed. George Plasketes. Aldershot, UK: Ashgate, 2013. 179-88.
Davis, Andrew. "From Junk to Jesus: Recontextualizing 'The Pusher'." Play It Again: Cover Songs in Popular Music. Ed. George Plasketes. Aldershot, UK: Ashgate, 2010. 111-26.
Book Reviews
Davis, Andrew. "Neoliberalism from Below: Popular Pragmatics and Baroque Economies, by Verónica Gago." Journal of Cultural Economy 11.2 (2018): 172-5.
Interviews
Stump, Jessica. "Don't Be an April Fool for 'Fake News': Appalachian Communication Professor Dr. Andrew Davis Shares Tips on How to Discern Fact from Fiction in a World of Increasing Misinformation." Appalachian Today. April 2, 2019. https://today.appstate.edu/2019/04/02/fake-news.
Recent Awards
NC Television, Inc. Award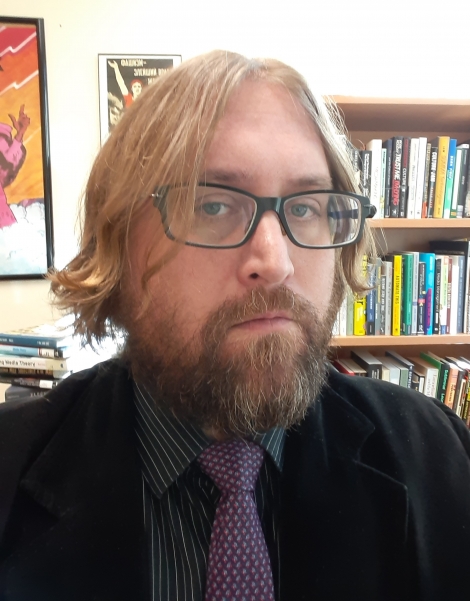 Title:

Assistant Professor, Communication Studies
Department:

Department of Communication

Email address: Email me

Phone: (828) 262-7760
Office address
Walker Hall 239