Student-Run Communication Agency to Host CreateAthon on Oct. 26
BOONE, N.C. (October 4, 2019) — Second Story Media, Appalachian State's new student-run communication agency, will host a CreateAthon event to develop materials for local nonprofits.
Second Story Media will partner with CreateAthon to host a 24-hour creative marathon beginning October 26 at 8 a.m. at the Walker WORKspace, formerly the HOW Space. The public is encouraged to attend and watch the creative process.
Second Story Media will be working pro bono with four nonprofits: the App State Child Development Center, the Blue Ridge Conservancy, the Hub for Autism and Neurodiversity and Girls on the Run. These nonprofits will receive individually designed services, such as social media campaign materials, website revamping, print material design, press releases and more.
"CreateAthon gives our members and other students the opportunity to come together and provide pro bono marketing to local nonprofits in a unique and challenging way," said Project Manager Max Lichtfuss. "We're very excited to bring this national initiative to Boone and aid our incredible community of nonprofits."
Second Story Media's CreateAthon event is funded by individual sponsors and donations from local businesses. To donate, please contact Max Lichtfuss at secondstorymedia@gmail.com. Second Story Media is currently recruiting staff and volunteers; those interested may visit secondstorymedia.com to apply.
About Second Story Media
Second Story Media is a student-run communication agency with a mission to help clients fulfill their communication objectives while providing meaningful experiences for carefully selected student members. The student team represents a broad spectrum of disciplines, backgrounds and skill sets, united by a commitment to tell the unique stories of deserving nonprofit clients throughout the High Country. For more information about Second Story Media, contact secondstorymedia@gmail.com or visit secondstorymedia.com.
About CreateAthon
CreateAthon® is a national nonprofit organization that delivers free marketing and communication services to nonprofits that otherwise would not be able to afford or have access to them. This initiative began 21 years ago as a 24-hour marathon at an agency in Columbia, SC. Over the past two decades, CreateAthon has grown and recruited more than 100 different partner organizations, including marketing agencies, universities, and professional organizations. Through these partnerships, CreateAthon has been able to serve more than 1,500 nonprofits in the US, Canada, and Puerto Rico, delivering more than $25-million worth of marketing services across the nation. Now a 501(c) 3 organization, CreateAthon hopes to generate $100 million in pro bono services to the nonprofit marketplace by 2020. For more information visit, createathon.org.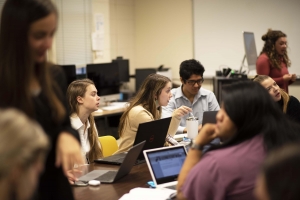 Tags: