Public Relations Student Society of America (PRSSA) is the foremost organization for students interested in public relations and communications. We advocate for high ethical standards and diversity in the public relations field. PRSSA was built to help students enhance their education, broaden their professional network and launch their career through chapter meetings, networking events and national and regional conferences.
Join the PRSSA meeting on October 22nd at 6:30PM in Walker Hall 102 to hear Cherith Andes speak on the topic of "The Five Things I Wish I'd Known Starting Our in PR." Ms. Andes earned her MS in Communication at NC State, and has over a decade of experience in Public Relations strategy and account management.
This meeting is open to anyone interested in learning more about Appalachian State PRSSA.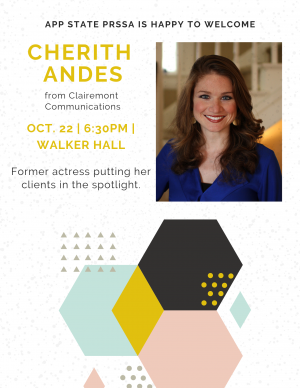 Tags: