BOONE, N.C. (November 21, 2019)--Students from Second Story Media, Appalachian State University's student-run communication agency, visited two advertising agencies in the Raleigh-Durham area earlier this month to learn more about careers in the agency environment and the opportunity to continue their education with specialized graduate studies.
Second Story Media students toured Baldwin& agency in Raleigh and met the agency's founder, David Baldwin. The meeting was set up by an Appalachian State Communication alumna who works at the agency. Baldwin shared his insights with students about the creative process, client communication, setting client expectations and how an advertising agency operates.
Students also visited McKinney advertising agency in Durham and learned more about graduate school at Virginia Commonwealth University's prestigious Brandcenter. Students talked with a VCU recruiter and alumni working at McKinney to gain perspective on how their experiences helped them in the agency world and the value of creating a diverse client portfolio.
"After visiting McKinney and hearing from their employees and the presentation by VCU, I decided to apply to a graduate program," said Kayla Hall, co-president of Second Story Media. "I was initially going to wait a year to apply, but now feel ready to take the leap."
About Second Story Media
Second Story Media is a student-run communication agency with a mission to help clients fulfill their communication objectives while providing meaningful experiences for carefully selected student members. The student team represents a broad spectrum of disciplines, backgrounds and skill sets, united by a commitment to tell the unique stories of deserving nonprofit clients throughout the High Country. For more information about Second Story Media, contact secondstorymedia@appstate.edu or visit secondstorymedia.com.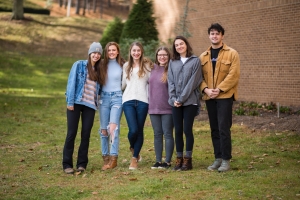 Tags: