BOONE, NC (Nov. 23, 2019) - Since its inception in 2015, AppTV has served as a learning lab for students, providing news, entertainment and sports for the Appalachian campus and community beyond. Today AppTV announced the AppTV SIGNAL (Supporting Innovative Growth, Networking, And Leadership) project, to provide financial support to AppTV's operations and programming.
"AppTV has consistently pursued new heights in its mission to prepare students for a career in media," said General Manager Rob Gelber. "Until today, there hasn't been a clear way for friends and alumni of AppTV to help the channel pursue its goals. By establishing this fund, we will be able to provide support for our students and make sure we have the equipment and resources needed for the station."
Funds from the AppTV SIGNAL Project will be used to help students through scholarships and assisting with conference/competition attendance, offer support for new technology for the station and address any infrastructure needs.
About 50 students per semester participate in AppTV in a variety of roles, including crew, production, programming, creative services, and more.
AppTV is headquartered in the George G. Beasley Media Complex on the campus of Appalachian State University.
"We have a special recognition for the pioneers who join us in helping establish the SIGNAL Project," said Gelber. "Those individuals who donate early will be recognized inside the station as AppTV SIGNAL project founders."
To make a gift and become an AppTV SIGNAL founder, visit bit.ly/AppTV_SIGNAL, choose "Other Designation" and type in "AppTV SIGNAL."

About AppTV
Launched in 2015, AppTV is housed in the Department of Communication and is Appalachian's student-staffed television channel. It is available on Skybest Channel 20 or 1020, Spectrum channel 198 and on campus channel 23-3.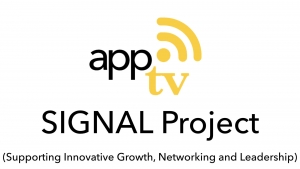 Tags: