Electronic Media/Broadcasting major Noah C Cornelius combined multiple opportunities to gain skills needed for a career in motorsports broadcasting
BOONE, N.C. – When current junior Noah Cornelius decided to leave a music technology program at a Tennessee university, he chose to transfer to Appalachian State University "on a whim" – in part because App State offered a much more affordable option than his original university, and because he was intrigued by AppTV, App State's award-winning, student-run television station. Within the first week of becoming a Mountaineer in August 2021, Cornelius had joined the AppTV crew, starting his journey into the broadcasting world.
"When I say I picked App State 'on a whim,' I truly mean 'on a whim,'" said Cornelius. "After I left my previous institution because of the COVID-19 pandemic, I took a gap year and decided to start over, choosing a different career path in the process. I only chose App because I had an interest in television, and I had vaguely heard about App State having a great communication program and a television station. Next thing I knew, I was a Mountaineer."
Cornelius spent the summer of 2022 honing his broadcasting skills through a variety of opportunities. In May, he shadowed NASCAR on FOX reporter Josh Sims during the North Carolina Education Lottery 200 at Charlotte Motor Speedway.
During that same week, Cornelius was contracted by Floyd Mayweather's The Money Team Racing to be an at-track reporter covering the team's activities during the week leading up to the Coca-Cola 600 and on race day. He interviewed several people, including driver Kaz Grala, crew chief Tony Eury Jr., former NBA player Francisco Garcia, and executives from team sponsor Segi.TV. You can see some of Cornelius's reporting in the video below:
In June, Cornelius attended the Kellar Radio Talent Institute, a talent incubator held at App State offered by the National Radio Talent Institute. At Kellar, Cornelius networked with radio industry executives, including legendary motorsports broadcaster and App State alumnus Doug Rice. Cornelius was also certified by the Radio Advertising Bureau as a "Radio Marketing Professional."
Later that month, Cornelius would begin his role as a production intern with FOX Sports in Charlotte assisting with the production of NASCAR Race Hub, NASCAR Cup Series Race Day, NASCAR Camping World Truck Series Race Day, and ARCA Menards Series broadcasts.
Cornelius' student work in motorsports broadcasting was recognized this summer when he became one of 23 recipients of a $5000 scholarship from the Dr Pepper 23XI SPEED Institute Tuition Program. 23XI Racing (pronounced 23-eleven) was founded in 2020 as a partnership between NBA legend Michael Jordan and three-time Daytona 500 winner Denny Hamlin. More information on this scholarship can be found here.
"I could talk about how much this means to me, but truthfully, it means even more to my parents since they are helping to pay for my tuition," said Cornelius. "To take some of the financial burden off them means everything to me."
For the 2022-2023 academic year, Cornelius will be a production technician for AppTV, and when he graduates in fall of 2023, Cornelius will work toward getting a job in NASCAR broadcasting.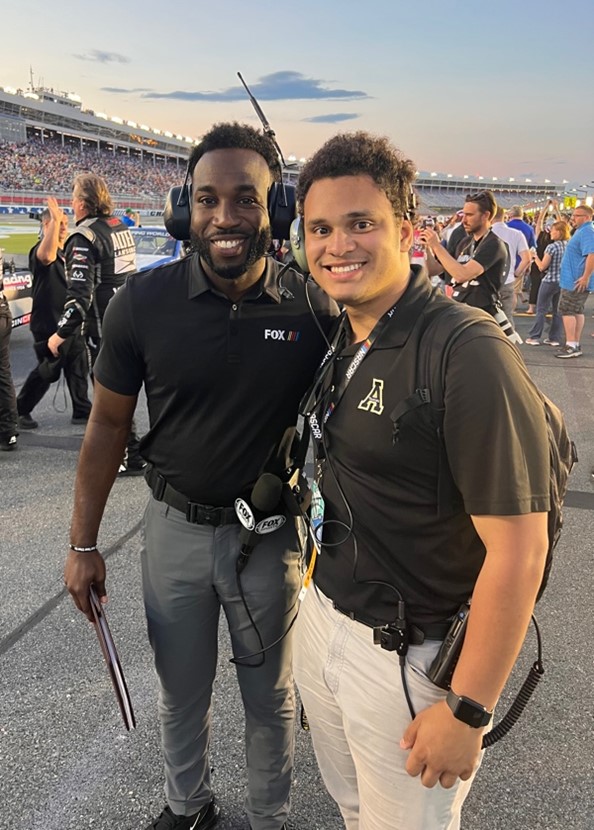 Noah C Cornelius (right) with NASCAR on FOX reporter Josh Sims.